The chemistry of Bigg Boss OTT (Bigg Boss OTT) contestant Shamita Shetty (Shamita Shetty) and actor Rakesh Bapat (Raqesh Bapat), part of the show indoors, has been the talk of the town. The ever-love between the two, sometimes the clash is giving the show a chance to spice up and gossip to people. No one understands what's going on last between the two. As the finale of the show approaches, the two seem to be parting ways. Shamita and Rakesh had a heated argument recently. Tv actress Kamya Punjabi (Kamya Panjabi), Shamita Shetty have once again been showered with the debate after watching the debate.
The last few episodes have seen some rift between Shamita Shetty (Shamita Shetty) and Rakesh Bapat (Raqesh Bapat), not naming the two to resolve their differences. Things escalated to such an extent that Shamita even said that Rakesh did not deserve her.
Kamya tweeted, 'Right, #shamita Rakesh Bapat is not a man who can dance at your behest. Rakesh is definitely not among them. And of course… He's not confused exactly he's now appearing to be more obvious. #BiggBossOTT'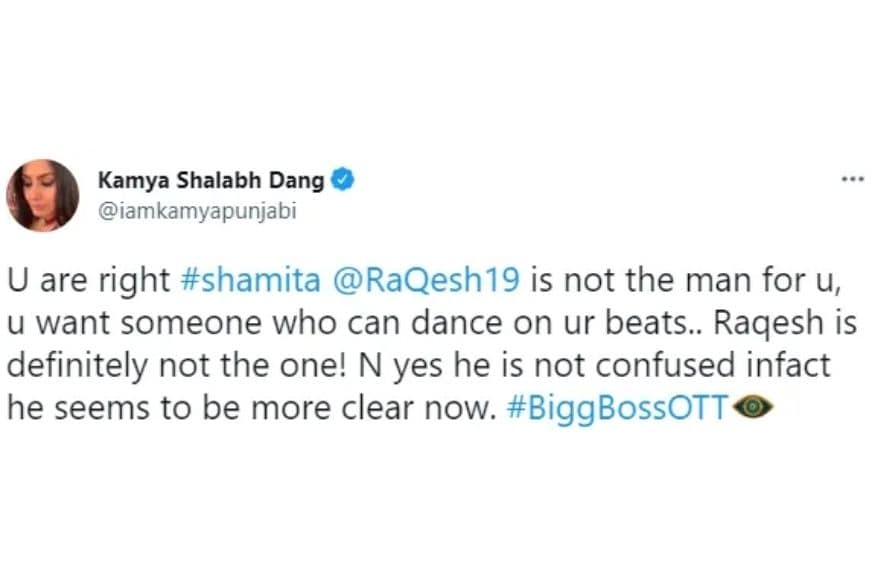 However, this is not the first time Kamya has publicly expressed her dislike for Shamita in this way. Actress Kamya Punjabi, known for her bold and fiery attitude, was not happy to see Shamita as part of BB OTT. She had earlier also taken a dig at the actress twice for being a part of Bigg Boss OTT.
Tell you that in the last episode Shamita Shetty told Neha Bhasin that Rakesh is not the right man for her as he cannot take a stand for her. He asked Neha and Pratik Sahajpal to stop Rakesh if she came close again. Rakesh Bapat has reached the semi-finals but his and Shamita Shetty's bonding is now showing a rift. Even the conversation between the two has stopped. The two may want to resolve the issues between them but the fights between the two have escalated after the Ticket to Finale task in Thursday's episode.