Mumbai: TV's most popular show 'Bigg Boss OTT' has been entertaining the viewers since day one. The contestants in this show are engaged in enticing the fans. The format of the show itself is controversial, so there are a lot of controversies in the show. Conflicts and tensions are common at home. On Sunday, the show's contestant Divya Aggarwal and Neha Bhasin had a heated fight. Hitting under the belt, Neha made fun of Divya's periods which everyone was disappointed with.
Panchayat work was recently given inside the house of Bigg Boss. During the task, Neha Bhasin told Divya that you look bloated. This did not go unnoticed by Divya, she replied to Neha and asked how she could joke about the periods of womanhood. Seeing Divya's anger, Neha said, "I was not taunting."
Divya Aggarwal's boyfriend Varun Sood's sister Vedika Sood did not like Neha Bhasin's statement. She tweeted and reprimanded. It is hard to believe that Neha Bhasin physically embarrasses Divya because of her periods. Why can't the guests of the house see it and why should they support Divya Aggarwal? He then wrote insulting words to Neha.
Not only that, the angry Vedika wrote in another tweet – 'I have written for a woman who disrespects other women. It is full of hatred. Menstruation is natural. How Neha Bhasin dares to make fun of Divya's hormonal changes. Shame on you.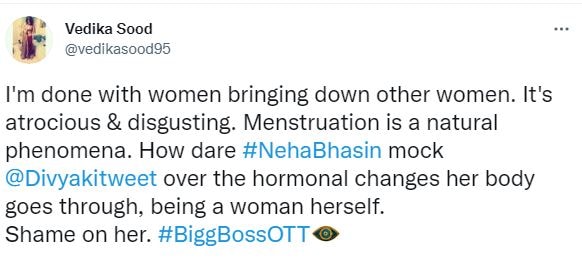 (साभार:Vedika Sood/Twitter)
Tell us that akshara singh had shamita shetty's edge shaming inside the house earlier also. Akshara made fun of him as mausi.